BRAND NEW CARNIVAL GAMES!
Whether you're having a carnival themed event or just looking to add a creative touch to your party, our Carnival Games make a fun, unique addition to any event and are fun for all ages! Place the games on tables OR pick 4 of your favorite to put in our brand NEW Grand Midway Carnival!
Grand Midway Carnival
Which are your favorite table-top carnival games? Choose your 3 favorite to be featured along with a Fun Food Machine or you can supply your own games.
*Customers can choose from the Balloon Pop (Magnetic), Potty Toss, Tic Tac Toe, Bottle Ring Toss, Tipsey Clown Toss, and Pyramid Toss games. Fun Food Machines available are our Snow Cone Machine, Popcorn Machine, Cotton Candy Machine, and Hot Dog Warmer.
*Games not included in rental
Dimensions: 20W x 8L x 12H
Balloon Pop (Magnetic)
Ready… Aim… Fire! Test your hand-eye coordination by throwing the magnetic darts at the balloons on the board! Try to hit 3 balloons of the same color to win.
Dimensions: 30"L x 24"W x 30"H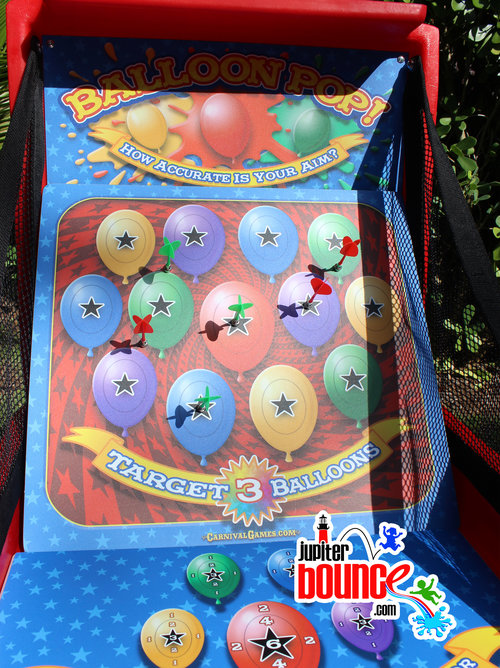 Potty Toss
Who will FLUSH the competition in our new Potty Toss game?? Take turns tossing wiffle balls into the pretend toilet to find out who is the king or queen of the porcelain throne!
Dimensions: 30"L x 24"W x 30"H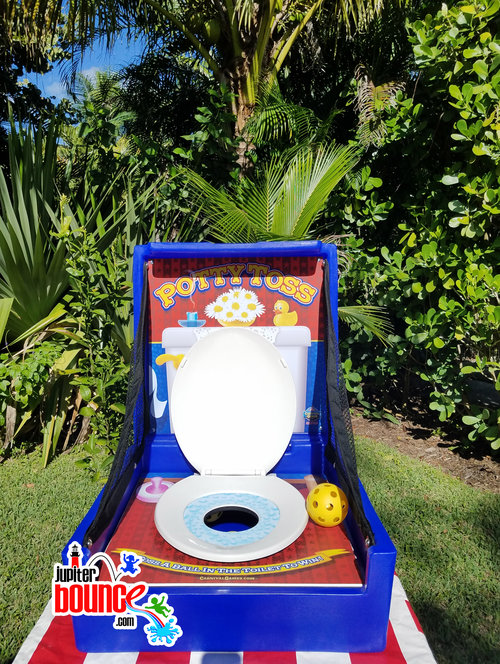 Coin Roller
The game is simple- see who can score the most points by sliding coins across the game board into the slots with different point values. The game comes with washers to slide as coins.
Dimensions: 70"L x 22"W x 18"H
Tic Tac Toe
In this spin off the classic game Tic Tac Toe, take turns tossing wiffle balls into the holes to try and get three in a row or block your opponent!
Dimensions: 30"L x 24"W x 30"H
Plinko
Bring The Price is Right to your backyard with Plinko! Drop the chips from the top of the Plinko board and watch them navigate through the pegs into the numbered slots.
Dimensions: 22"L x 46"H
Bottle Ring Toss
Now who hasn't played this game before! This fun and simple game consists of tossing plastic rings to get them over bottles on the other end of the table. Great for all ages!
Tipsey Clown Toss
Toss the bean bag into the wall of Tipsey clowns and see how accurate your aim is! Whoever knocks down the most clowns, wins!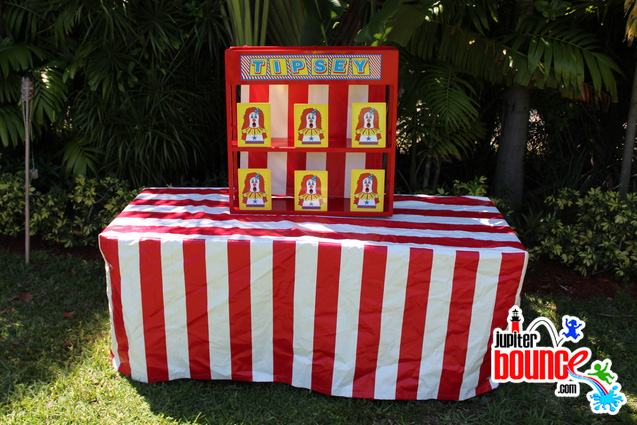 Kiddie Hi Striker
Who can resist picking up the maul and banging away on a Hi Striker? People of all ages play it time after time to try and ring that bell. Great for any event!
Froggie Launch
Simple yet so fun! Test your strength and hand-eye coordination by striking the button with the hammer to get the orange froggie into the pail across the table.
Pyramid Toss
Enjoy this classic carnival game of trying to knock down stacked cans! Toss a bean bag at a pyramid of tin cans. the more you knock down, the more points you score!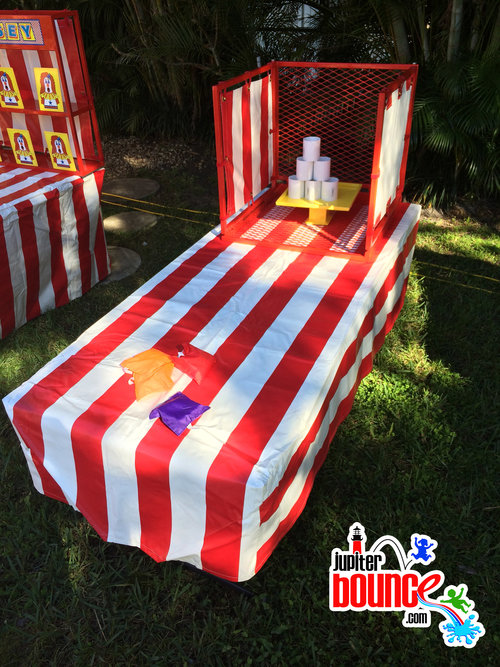 Did you know….
We have fun food machines for your events! See our Snow Cone Machine, Popcorn Machine & Cotton Candy Machine below. Checkout the Food Machines page for more :)
3 in 1 Carnival Game
Test your aim by tossing bananas through the holes in the "Gone Bananas" or footballs in the "Touchdown Toss" section of this inflatable. Finally, try your hand the velcro dartboard!
Dimensions: 5L x 19W x 10H